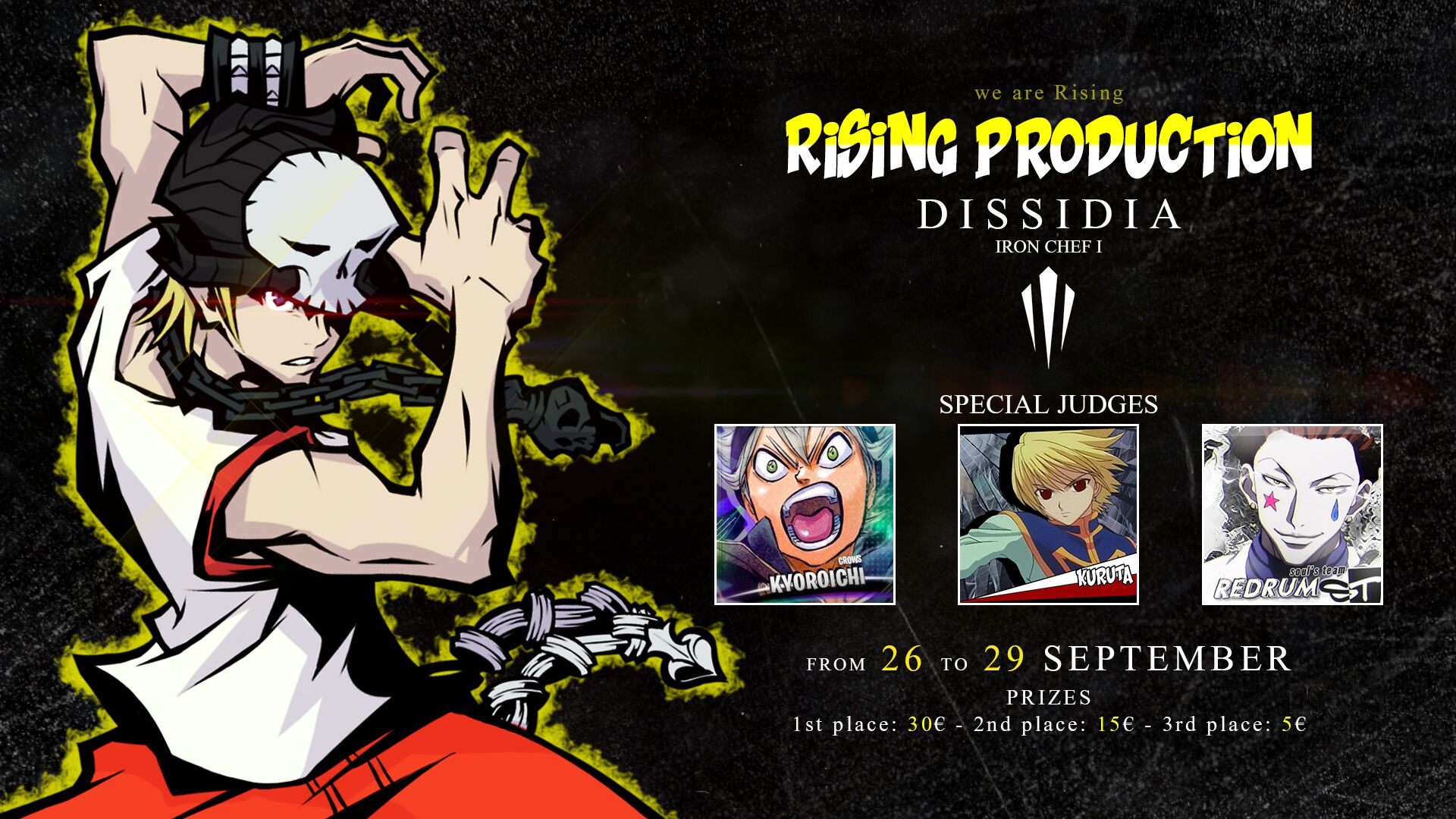 Poster by [Key]Scarlet
Discord Server: [url]https://discord.gg/VbbPayc[/url]
Video Promo: Soon
---
WHEN:
---
Thursday 26th September (18h- GMT+2) to Sunday 29th September (23.59- GMT+2)
---
VIDEO REQUIREMENT:
---
. Video codec : Mp4, Avi, Mov
. Audio codec : Mp3, Aac, Flac, Wav
. File size : Max 300MB
. Duration : 1:30 minutes minimum
---
WHAT IS THIS CONTEST:
---
Iron Chef: You simply have to make a video in a limited time (72h) with a date and start time and an end date and end time. You can editing only song chosen by our judges.
---
RULES:
---
Your video must be

minimum 1:30

minutes and max 5 minutes (intro - outro excluded)
Only

SOLO

or

COLLAB

video, MEPs

are forbidden

Maximum

file size

300MB

You

MUST

use only songs provived in the song's packs released by our judges
Logos, aliasing, subtitles, garbage / hentai sources or any kind of visual assault will be disqualified.
Use only source from japanese animation (Netflix series as "Love, death, robots" are not allowed)
You are free to share you AMV immediately

Songs

will be released on AMV Italia forum and on RP discord server
---
REGISTRATION:
---
Go to our Discord Server in the Registration section
---
HOW TO SEND YOUR AMV:
---
Upload your video only on Google drive, Mega or Dropbox.
And rename it as:
Category - Editor Name – Video Name
Example: Dance - OscarAMV - Big Party

Fill the Email as:
Email Object: "RP IC 2019"
. Editor Name:
. Video Name:
. Category:
. AMV Team/Studio:
. Download Link: (Only Google drive, Mega or Dropbox)
---
WINNERS:
---
Results will be live streamed on Rising Production official youtube channel
[url]https://www.youtube.com/channel/UCL7n1ffQypKS14dbi_zae1A[/url]
Note: Based on the number of participants, will be decided whether to make a single ranking, or a categories ranking.
A category is valid only if there are 8 or more videos
---
JUDGES:
---
---
PRIZES:
---
1st place: 30€
2nd place: 15€
3rd place: 5€
---
CATEGORIES:
---
. Action
. Psyche / Horror
. Fun / Dance
. Romance / Drama
Note: in case there are so many entries the judges may decide to divide the various categories
For any question contact me on twitter or discord
[url]https://twitter.com/OscarAMV_[/url] Oscar#5891
ALL info on AMV Italia